720 P Yoosee H.264 Wifi IP PTZ ağ fotoğraf makinesi g/ç Alarm bağlantı noktası
720P kablosuz P2P Onvif IP kamera özellikleri ve işlevleri:
Yüksek kaliteli wifi IP kamera bu. Bu Hisilicon küçük parça, çok iyi bir yonga seti kullanın. Ayrıca, hd 720 p 1.0 megapiksel wifi IP kamera, o çok net bir resim ve video gösterebilir. Pan tilt işlevi, yatay 355 derecesi, dikey 90 derece herhangi bir köşe özledim asla. Bu pan tilt wifi IP kamera gerçekten ev koruma.
(1) destek mobil görünüm, yakalama alarm görüntüsünü, iki yönlü ses konuşma, uzaktan kumanda ve ses monitör
(2) destek PTZ kontrolü: yatay 355℃, dikey 90℃
(3) destek Çoklu dil, dil otomatik kimlik mobil işletim sistemi göre
(4) desteği: IOS/Android/windows işletim sistemi
(5) destek ONVIF Protokolü
(6) destek IR gece görüş: 0 LUX düşük aydınlatma, 11pcs LED ışıklar, IR mesafe: 10meters
(7) destek hareket algılama: olay ve alarm bilgi e-posta veya FTP yükleme
(8) desteği gibi pır dedektörleri, kablosuz alarm sensörleri ile kapı/pencere manyetik kontak, duman dedektörleri vb kodlama
(9) destek CMS, 64ch için max
(10) destek çok düzeyli parola koruması, yüksek güvenilirlik
(11) TF kartı en fazla 64 G destekler
(12) yükleme yolu: montaj, montaj kaldırma duvar
720 P HD Wifi P2P IP kamera özellikleri
System

CPU

Industrial-grade embedded microcontroller Hi3518E

Operating system

Embedded LINUX OS

Soft system

Android IPhone Windows

Video

Image sensor

100MP CMOS

Video Compression Format

H.264

Video Signal System

PAL&NTFS for optional

Video Resolution

720P:1280*720 960P:1280*960

Playback Image Quality

720P/960: 25fps or 30fps

Motion Detection

Support

Minimum illumination

OLUS/F1.2

IR

Support 5th generation high light IR

Video call

Support high-fidelity speakers

Screenshots function

Support

Audio

Compression

AMR

Audio Output

Built-in microphone

Audio Input

Built-in speakers

Recording

Recording Mode

Manual recording, schedule recording, alarm recording

Video Storage

Micro SD/TF

Alarm

Alarm triggered

Email Speakers alarm,Alarm recording,Capture&Email

External Alarm

Support all kind external wireless alarm linkage 433MHZ 315MHZ

Alarm Hint

Speakers alarm,Alarm recording,Capture&Email, mobile phone ringtone

Network Conection

RJ45

1 RJ45 Interface, 10/100 Self-adaption

WIFI

Support, 802.11 b/g/n

P2P

Support, unique P2P number, can work in LAN

Compatibilty

Protocol

ONVIF

Safety

Password Protection

Multilevel encryption, seniority password protection

Others

Power Supply

DC 5V 2A

PTZ Control

Built-in horizontal and vertical control motor

Power Consumption

3W

Working Temps

0℃- + 55℃

Working Humidity

10%-90%

Size

130*100*123 mm with WIFI antenna

weight

800g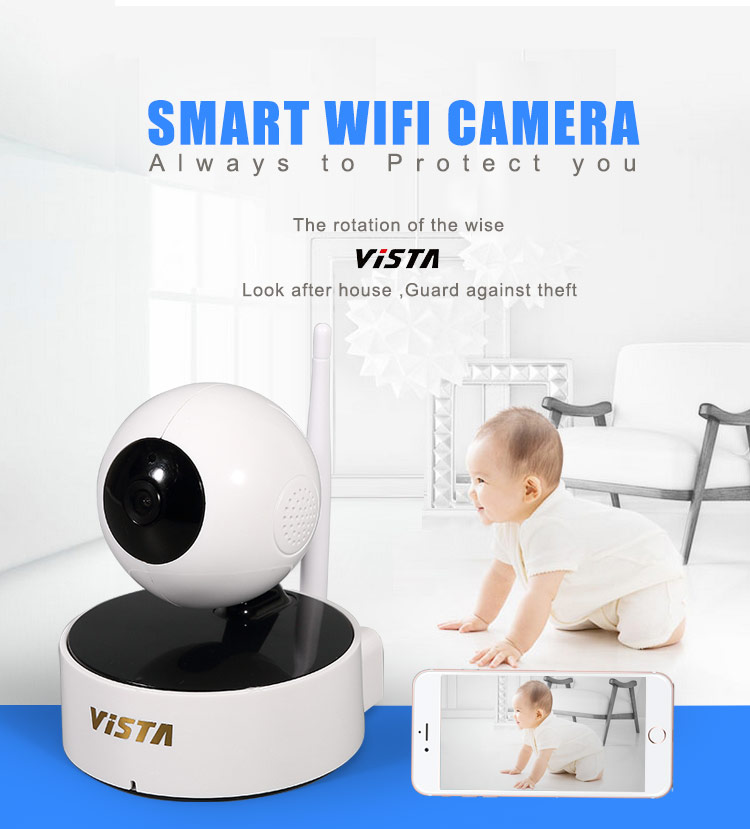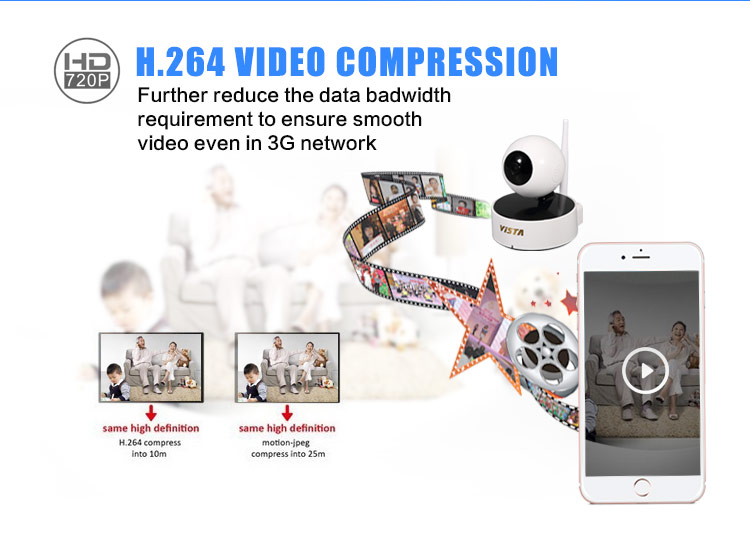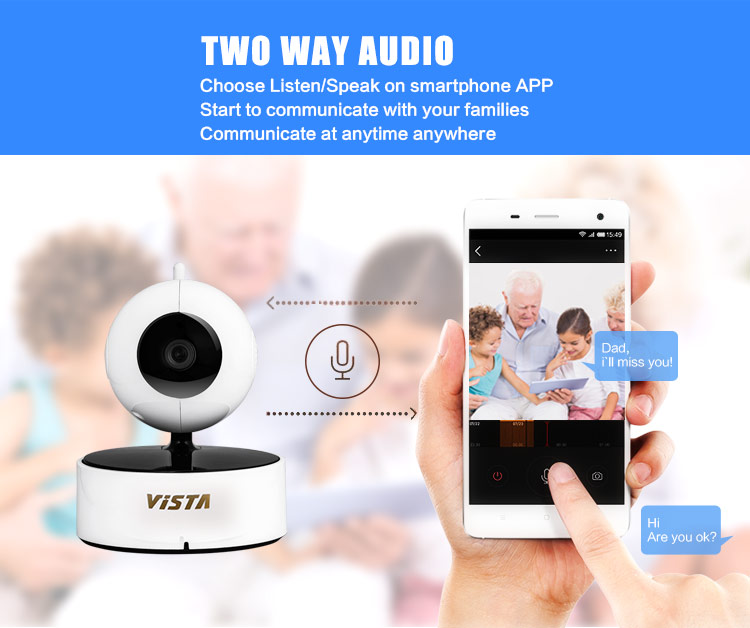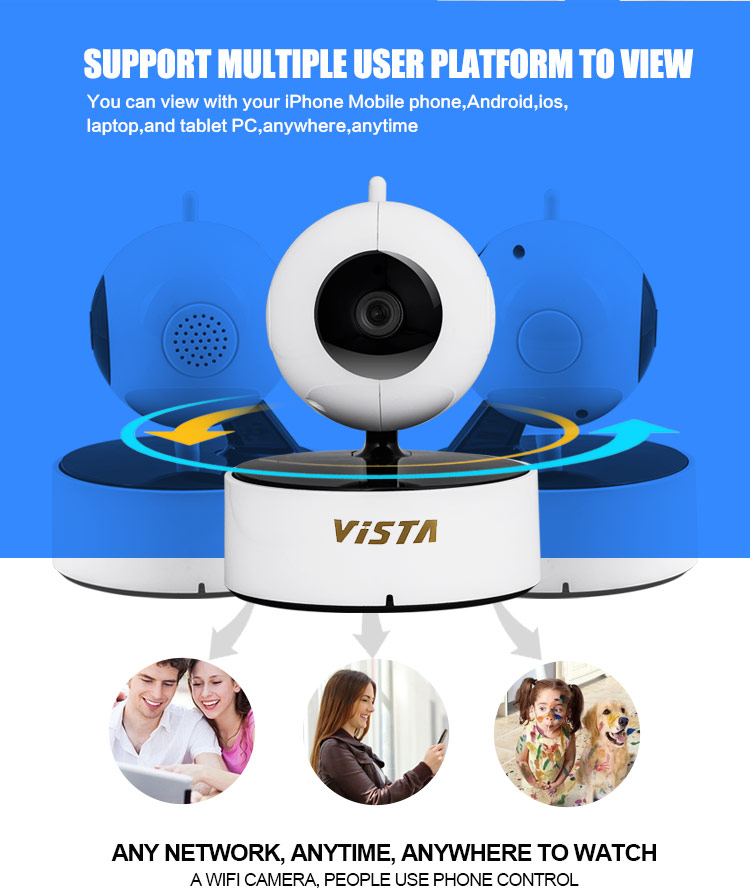 Nasıl-ebilmek biz yapmak bir emir s:?
A: sen-ebilmek göndermek bize sorgulama online veya e-posta ile teklif gönder ve sipariş, bir zamanlar bizim PI göre ödeme alma onaylamak, biz yakında malları teslim ve takip numarası söyle.
Q: ödeme yöntemi nedir?
A: T/T, L/C, Western Union, VISA, Mastercard, Emanet, paypal ve benzeri ödeme koşullarını kabul ediyorum. İstemci tarafından isteğe bağlı.
Paketleme ve ambalaj ve ürünleri bizim logo baskı Q.May?
A:Yes, biz sunduğumuz özelleştirilmiş paket ve farklı malzeme ile logo.
Q. Ürünleriniz için garantisi nedir?
A: Biz tüm ürünlerimiz için 2 yıl garantisi veriyorum.
Q. Minimum Sipariş Adedi nedir?
A: bizim Minimum Sipariş Adedi 5'li, ama örnek sipariş karşılama.
Kalitesini test etmek örnekleri var Q:Can?
A:Yes, örnek kalite miktar sipariş önce test etmek için satın alabilirsiniz.